Proof 1:
Charles has been a busy pup this fall, with no end in sight. But dang if this boy isn't determined to live his best life! It is officially fall, and Charles is pulling out all of the stops to show how basic he is, and he has no shame in it! Proof:
Proof 2:
A few weeks ago, we went on a little romp on a walking trail after a vet appointment. This little dude is amazing. I brought along his K9 Sportsack, thinking he would want to take some breaks. Of course, he couldn't care less. We simply needed to stop and let him rest occasionally. When he did get into the K9 Sportsack, he was an InstaGOON. For some reason, he acts like his head is too heavy to hold up and kind of lets it hang back. Could this be a function of only having one front paw? Maybe. But he still enjoys it (I think). Proof:
Proof 3:
This happy boy really loves to frolic through grass. Sure he gets tired, but look at that smile. Also, look at that booty! He is having a great time!
Proof 4:
Charles and I have even started to get out and explore our new town on foot! Again, there is plenty of grass for him to romp through when he isn't riding in his stroller. Once we get downtown I keep him in the stroller a bit more for fear of the concrete being to tough on his one little short front leg. But I cannot pass up the opportunity to get a cute little photo of this boy on one of our evening strolls. Proof:
Proof 5:
Of course, Charles has been very good and patient with me as we have been traveling a lot this past month. The past four weekends we have been on the road, and he has been a trooper through it all. I have to give him trazadone to help with his anxiety in the car so he can mellow out. It really makes him a much better riding buddy. Charles handles this very well, and for that I am grateful. I have accepted that he will be traveling with me for work and staying in hotels because I cannot stomach the idea of leaving him in at a kennel while I am gone with all of his special needs. Plus, after nearly eight years of life, he has never experienced anything like that. I think it would be too stressful. So instead, I will have the best roommate whenever I stay in hotels as I travel for work. What a dream! Proof:
Proof 6:
Belly rubs and nail trims. While Charles isn't one of those dogs that rolls over begging for belly rubs, he doesn't really turn them down when the opportunity arises. I put a medicated anit-microbial foam on his tummy and paws when he is having flare ups of itchies, and to do that I need him on this back, belly up. AND thanks to the "Nail Maintenance for Dogs" Facebook groups, I was able to desensitize Charles to nail trimming and actually use a dremmel to grind his nails, and he is SO GOOD. Both of these things put him on his back, which opens up to belly rubs. He is a happy boy and really doesn't mind. And I like seeing his left front paw, lovingly named Franklin S. Foot (S. stands for Submarine because his little paw reminds us of a submarine scope). Proof: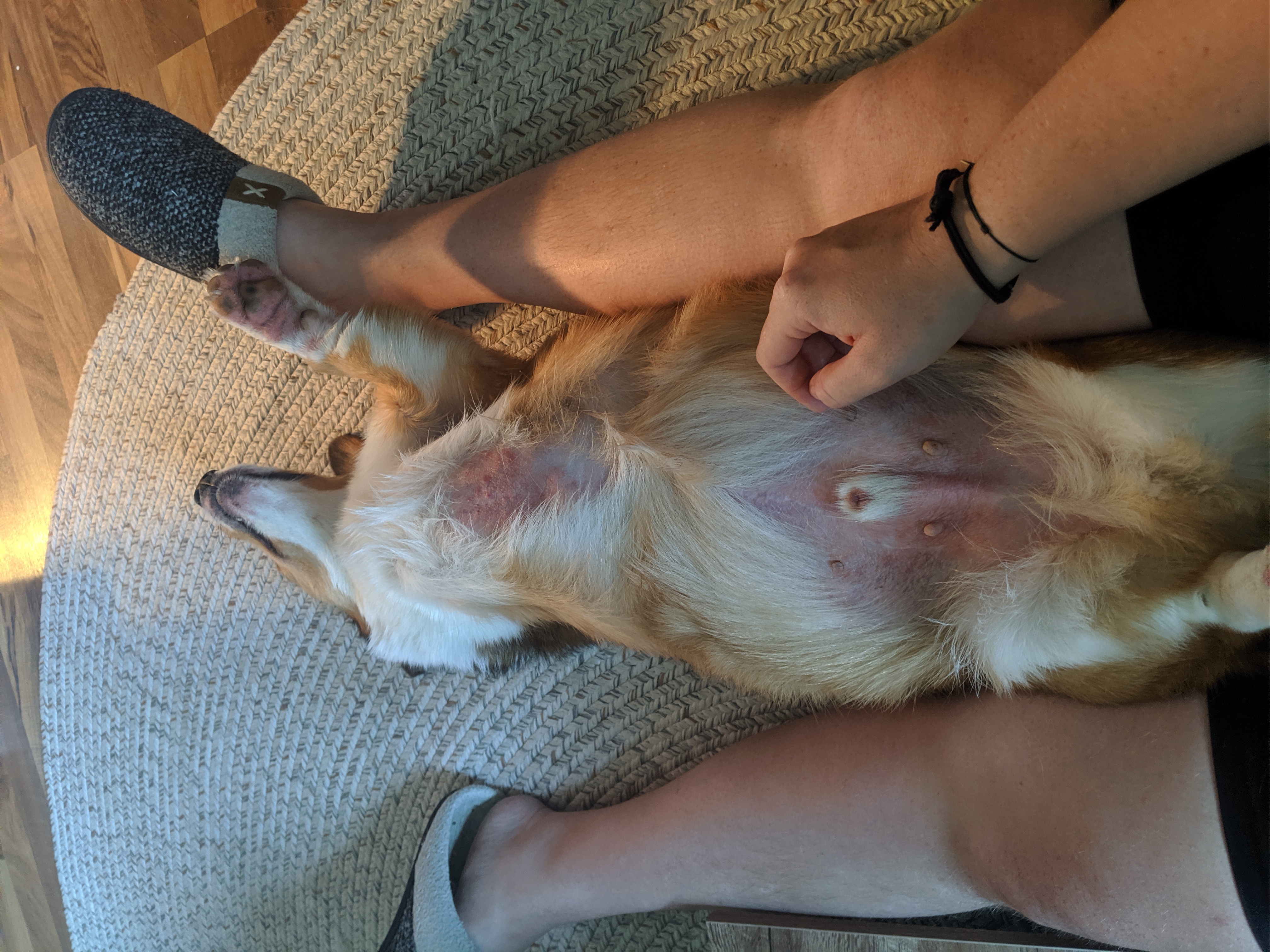 Proof 7:
Charles is such a great boy to me and tolerates my being an overbearing, obsessive dog mom. He puts up with all of the photoshoots, baby talk, waving, rustling of the furs… everything. Of course I, the obsessive dog mom, needed to have a phone case with my boy on it… well… actually a second phone case with Charles on it (but they are very different cases!) and I had to get this guy to pose with it. Proof:
6 Responses to 'Proofs of Charles Avocado enjoying life this fall'
Leave a Reply